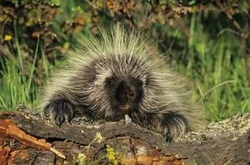 When porcupines encounter trouble, they protect themselves via shoving their painful and pointy quills into the direction of their opponents. Quills do grow back after falling off. Shedding is a normal process of porcupine quills. New quills often start emerging in the span of a few days after the earlier ones come out. New quills grow pretty rapidly. Until the quills are back to their full length, they usually grow approximately 1 millimeter for each couple of days. Porcupines' quills appear almost all over their bodies, from their tails to their backs. The quills do not cover their lower portions. Porcupines are equipped with an abundance of the tough hairs -- often at least 30,000 of them. Wow!!

To get the quills you could throw a blanket over a porcupine and the quills are will be stuck in the blanket. You can buy earnings or dyed quills seen in leather handbags.

We will keep watch for Porcupines while on your Private Excursion in Skagway.